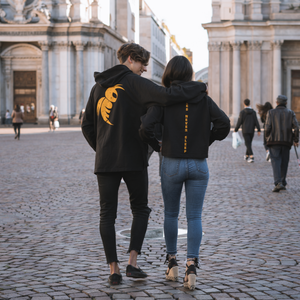 ETHICALLY MADE
BEEBAD Clothing is inspired by bees. This is the place where streetwear meets sustainability. All the materials in our collections are selected from eco-friendly sources. If you care about bee life and the environment as much as we do, then Never Sleep is what you have been looking for.
Welcome to the Hive!
All of our t-shirts are completely made out of organically grown cotton and they come in two colors: black and mustard, just like honey bees.
100% organic cotton
ECO-FRIENDLY
Our hoodies are composed of organically grown cotton and recycled polyester. We offer minimal designs that inspire simplicity and style.
80% organic cotton / 20% recycled polyester
ECO-FRIENDLY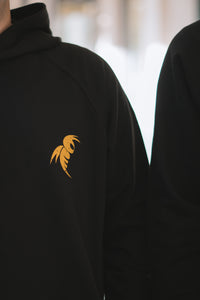 By bees. for bees.
For over 25 years we have been working in the honey industry, giving direct support to beekeepers and bee communities all around the world. Because we love bees, we have developed honey based products that promote a healthier lifestyle and the safeguard of bee life. Such as BEEBAD Energy Drink.
On 2021 we decided to take it a step forward and we launched our own streetwear collection following eco-friendly principles that respect nature and biodiversity. We use only certified organic textiles and recycled polyester in our garments.
BEEBAD clothing is made by Never Sleep. We have the mission to spread awareness about the importance of bee life and we want to guide with example. This is why all our products, including packaging, follow a strict selection of sustainable materials. We are here to inspire and show that a healthier lifestyle is possible. It begins with small actions, such as wearing an organic t-shirt.
Step by step.
BEES NEVER SLEEP
BEEBAD ENERGY DRINK
Mantis world
Since we do not produce our textiles yet, we want to make sure we get all of our materials from the most sustainable sources and dedicated companies. When we came across Mantis we knew it was settled. Their approach to the fashion industry has inspired us to focus even on the smallest details. All inside labels of our products remain as original. They display information about Mantis World and composition of the fibers with respective certifications.
One of the biggest problems for bee colonies nowadays is the indiscriminate use of pesticides and chemicals in the agriculture sector. Traditionally grown cotton represents a big threat for bees because it is not bounded by natural techinques. When you wear a garment that has been manufactured with organically grown cotton you can be sure biodiversity was preserved. Because organic cotton does not rely on pesticides or other harmful activities, the environment in which it has been grown remains healthy and full of life.
The crisis of bee colonies is a big issue because these pollinators are one of the most important beings on earth. Just to make it clear, without bees around 35% of the food we eat would dissapear. How does that sound to you?
We have been working in the honey industry for almost three decades so we know first hand how crucial the situation is. The moment to start caring is now.
For more information about Mantis World, production of organic cotton and certifications you can visit their website below.
Mantis World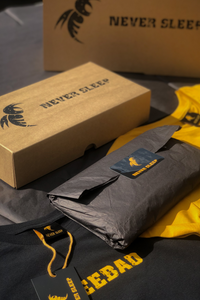 SUSTAINABILITY
Our packaging is inspired by our clothing. We strive to offer the most eco-friendly solution without sacrificing design. We know how important first impressions are. To offer a sustainable packaging means to have a very limited amount of alternatives. We ship only in cardboard boxes and we use just enough amount of ink to customize them. This translates into a greater reusable capability. Inside the box you will find your garments covered in tissue paper made from renewable sources which is easily recyclable. We avoid using plastic whenever possible.
All products come with a customized hang-tag made from paper card and they are tied to the label with a cotton string by hand. The box is closed and secured using ecological paper kraft tape which is also made from renewable sources. It is also easier to cut when opening your box, as opposed to plastic tape.
The only plastic you will find in our packaging is in the composition of the screenprint inks and our stickers. We use stickers to seal garments in the tissue paper and whenever we feel like adding a few for you. Just let us know in the description box of your order!
If you would like to know more about the impact of non-sustainable activities and harmful chemicals we suggest you read the following article by ABC News about beekeeping in Australia.
BEES AND INSECTICIDES
More About Organic Cotton
Water Conservation
Conventional cotton has been described by many as one of the most unsustainable fibers in the world. You know already the negative impacts that harmful chemicals, such as pesticides, can have in our ecosystems. But did you know about water waste? Let us introduce you to another major issue.
Growing conventional cotton just for a t-shirt can take up as much as 2700 litres of water. Scary right? This is the result of exaggerated production approaches that focus on quantity and not quality, without considering environmental impact.
A better idea? Organically grown cotton. Why? Because it relies on sustainable irrigation methods such as rainfed. Our garments are made this way, the good way. Read our products' description to learn how much water you are saving.
Maybe you are not convinced yet and you need some proof. We can take care of that. If you never heard about the Aral Sea then you have been missing on some big things, check it out!
ARAL SEA - THE GUARDIAN